Cody Corporation's Custom-Made Reflective targets are manufactured from a high-grade reflective material this resulting in a high accuracy measuring solution.
Are you ever coming back to this location? This is the questions you should ask yourself every time you take a total station shot because, if you are coming back even just once, you'll thank yourself for setting up your inexpensive reflective targets on site at your required locations.
For long term construction projects where an array of target locations can be selected for greater options when selecting a set out point. Before you leave a site think about placing more targets to suit the next stage of construction and even for yourself should you be required to come back later, this will save you time when doing your checks.
Having the custom-made targets with your own logo, design and coding system allows you to differentiate your targets from others around construction sites. This makes indicating to others on site where your targets are and comes in as free advertising on site.
These targets are highly durable and are built to last multiple years on sites in all conditions.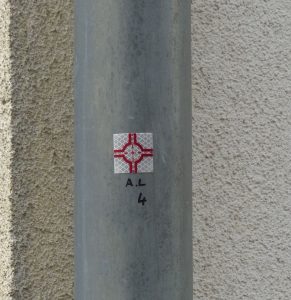 Just like the above image you can see there is a written code on the pole to differentiate the target between surveyors and construction targets. With our custom made targets you can make the target have these codes and logos on the target to make them more individual on sites.
With the targets being completely customizable you can pick the size targets that suit your needs, each having a varying number of targets per sheet, Refer to our product page for more information.
For those surveyors that are looking to take full advantage of their Total Stations Reflector-less technology these targets are purposely built for this application. The Reflective tape gives an accurate reading from most angles and the low profile, UV resistant tape and strong adhesive means that you can take the exact same shot without a prism offset.
Great for back-sights, check shots, elevation reference and monitoring solutions. Our investment in high quality survey & construction equipment makes it possible for you to save time, keep employees out of danger, get highly accurate data and feel confident about your data on construction sites.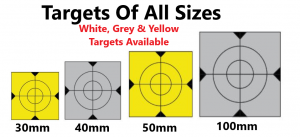 Follow the links below to our custom made reflective target sheets.
30mm x 30mm Silver Custom Reflective Targets 
30mm x 30mm Yellow Custom Reflective Targets 
40mm x 40mm Silver Custom Reflective Targets 
40mm x 40mm Yellow Custom Reflective Targets 
50mm x 50mm Silver Custom Reflective Targets 
50mm x 50mm Yellow Custom Reflective Targets 
60mm x 60mm Silver Custom Reflective Targets 
60mm x 60mm Yellow Custom Reflective Targets 
80mm x 80mm Silver Custom Reflective Targets 
80mm x 80mm Yellow Custom Reflective Targets 
100mm x 100mm Silver Custom Reflective Targets 
100mm x 100mm Yellow Custom Reflective Targets 
If your wanting to know more about our custom-made reflective targets, have a design you wish for us to create or any other questions give us a call on 08 8340 7888 or email us at info@codycorp.com.au