ProShot Alpha 1 XD Laser Level (No Receiver)
The Pro Shot Alpha XD is a compact and robust construction grade automatic level with class leading features. Designed and manufactured in California, the Pro Shot Alpha construction laser is designed for farming, earthmovers, concreters and general contractors that require a reliable, long range and accurate laser to meet their needs year after year.
Proshot Alpha 1 XD Laser Level Overview
The Pro Shot Alpha 1 XD  Laser Level has been designed with farming, civil and earthworks, ground works and building contractors in mind.
The Proshot Alpha 1 XD Laser Level features electronic self-levelling with no foot screws for quick and precise automatic levelling. The Alpha also has the added functionality of a manual grade, which is controlled by up and down arrows on the keypad. Unlike other lasers that have a grade override function, the Alpha can be precisely aligned to match slopes – even at longer distances. While operating in grade mode, the Pro Shot Alpha XD self-levels in the cross axis and the height alert is active to ensure quality results. This laser surpasses most of its competitors.
The Alpha XD Laser Level is made in California, USA and comes with a 2 year warranty.
Features:
·Super Long range laser diode
·Automatic horizontal levelling – with precise motor-driven self-levelling servos (± 5 degrees)
·Grade – has manual grade override with keypad control
·Height alert – can be disabled
·Slope matching X-axis only – 10%
·Robust laser built to survive the jobsite and withstand the harshest of conditions
Proshot Alpha 1 XD Laser Level Specifications
| | |
| --- | --- |
| | ±1mm per 30 metres |
| | Wire-hung compensator |
| | 920m diameter |
| | 1000m diameter |
| | 1000m+ diameter |
| | 115 hours |
| | 65 hours |
| | 4 x C size batteries |
| | IP56 |
| | 600, 1200 RPM |
| | Laser, carry case, manual, alkaline batteries, Australian calibration certificate |
| | 2 years |
| | Yes |
| | Class 3R |
| | No     |
A tool for life – designed and manufactured in California
Each Pro Shot Alpha is hand manufactured and tested at Laser Reference in California, USA. Unlike rival brands, Pro Shot lasers have low ongoing maintenance and repair costs – authorised repair centres still repair and stock parts for units well over 15 years old. Uneconomical write-offs are an uncommon occurrence with Pro Shot Lasers. Reasonable parts pricing and long warranties mean your Pro Shot laser will be your onsite companion for many years into the future. With authorised Australian dealers and repair centres in every state and capital city, you'll never be short of support for your Pro Shot.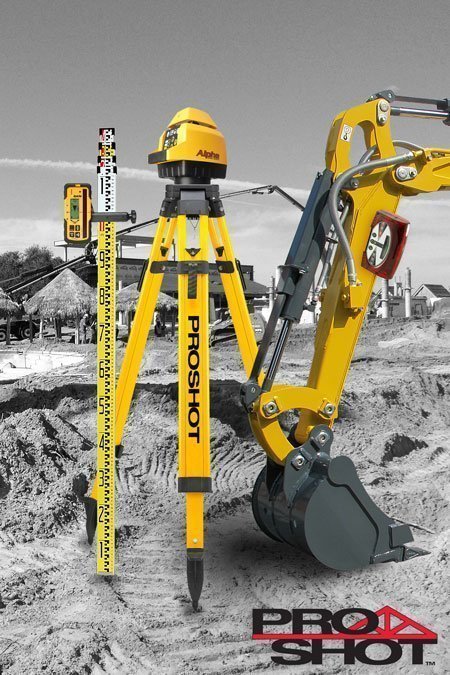 Fully self-levelling – even in slope mode
For grading applications such as driveways, drainage and carparks, the Alpha can be driven to match any slope up to ±8%. Unlike other lasers, once a grade has been set the Alpha's self-levelling function is still operating. If the laser is knocked, or temperature/vibration has caused a height variation, the laser is still able to compensate.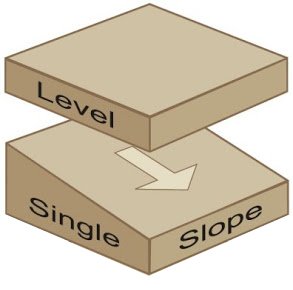 Machine control compatible
For laser guided machine control applications the Alpha's got you covered. A high speed 1200RPM mode has been built in that will give you twice as many laser strikes per second than other lasers in this class. What does this mean for the operator? Smoother control and higher accuracy.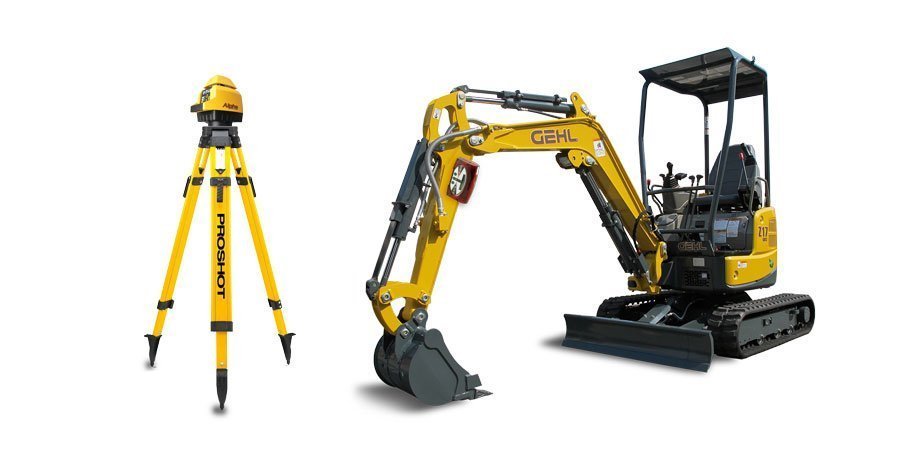 Alpha 1 XD Laser Level Has Excellent power efficiency
With 115 operating hours, the Alpha 1 has one the longest operating times in the market. This laser will give you over a month of operation using just a single set of batteries.
Tailored kits to suit your application
We understand that no two contractors are the same, so we've tailored kits to suit earthmovers, concreters, general builders – and even billiard table installers! The choice of receivers ranges from simple up and down and on-grade lights to millimetre readouts. Got an excavator, bobcat or dozer? We can package the Alpha with a range of machine display receivers – from display only systems for fast trenching up to fully automated dual hydraulic control systems. Call us to find out what's on offer for your industry.
Proshot Alpha 1 XD Laser Level Key Features
Feature
Alpha 1
Competition (Leica, Topcon, Spectra)
Site Safe
No OH&S requirements
OH&S Required, Class III not allowed on some sites
Class
Class I
Class II / Class III
Accuracy
±1.5mm
±1.5mm ±2.2mm
Runtime
115 hours
60-100 Hours
Operating Temp.
-20 TO +60 deg
-10 to +50 deg C
RPM
600 + 1200

Machine control compatible

600
Rechargeable
Free
Between $150 to $250
Made in
California, USA
Asia
Pro Shot Model Summary
Model
Laser Class
Accuracy*
Primary Feature
* Stated as ± millimetre deviation per 30 metres
Alpha 1
Class I
1.5mm
Unrestricted site safe laser class
Alpha XD
Class IIIR
1.5mm
700m+ long range
Alpha C
Class IIIR
1.5mm
Coning grade laser – ±4%
Alpha V
Class IIIR
0.3mm
High accuracy plummet laser
L4.7
Class II
1.0mm
Highest stability and accuracy
L4.7M
Class IIIR
1.0mm
Long range (1.5km) fencing
AS2
Class II
2.0mm
Single grade
AS2M
Class IIIR
1.0mm
Long range, compound grade